Genesis
Weekend Getaway Trip to Jeju Island!
Two weeks ago, Jd and I decided to spend a weekend away and fly south to Jeju-Island! (제주도)
Jeju Island is part of the Jeju Province in South Korea. This place is often nicknamed the "Hawaii of Korea". This is due to the fact that the weather is a little warmer, there are many beach resorts, and unique volcanic landscapes. We were extra excited because the first snow of the season was hitting Seoul that same weekend, and we would get to avoid winter for a couple more days.
Friday Night Flight
I headed straight home after school to meet JD and collect our things. We got to the train station soon after and after an hour and a half made it to Gimpo Airport. We experienced one of the fastest check-in processes and were through security in about 20 minutes. We ordered two bowls of soup once we got to the terminal and boarded soon after. We flew on Asiana and made it to Jeju less than an hour later.
Seriously, it took us less time to fly to Jeju than the train ride to the airport. We hailed a taxi once we arrived and checked into our hotel less than 30 minutes away. Our stay was at the Ocean Suites hotel, where the Christmas spirit was in full swing. We threw down all of our things and then started to pack for Saturday's hiking trip. Though very excited, we had to call it a night due to the magnitude of the following day's hike.
Saturday - Take a Hike
We woke up early (too early for my liking) but quickly got ready. We did a last minute check of the weather and double checked the trail that we wanted to start with. The hotel staff called us a taxi. After chatting with the driver, and eating our muffins, we arrived at the base of the trail by 8:20am. We planned to hike the tallest mountain in Korea, Mt. Hallasan! Long story short, we were absolutely not prepared for what awaited us, full post coming soon!
A Brief Jimjilbang
We finished the hike around 4:30pm and then decided to give the local jimjilbang, or a Korean spa, a try. Funnily enough, were weren't prepared for that either. We paid 8,000 won to awkwardly navigate through the different floors before meeting up at the communal floor where the restaurants and steam rooms were located. No one showed us the way or told us how to jimjilbang properly so we just walked into this little hut with our official spa pajamas.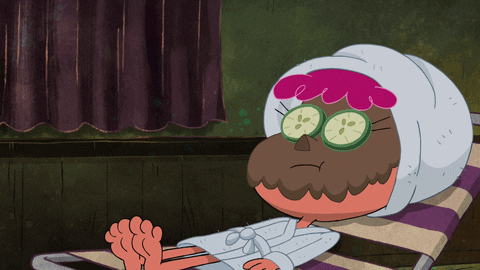 The steam room hut was filled with Himalayan salts and giant salt blocks. A TV played some Korean talk show in the background. Since there was no one inside the hut to mimic, JD and I just sat down in the salt laughing at how ridiculous it was. Were we supposed to bury ourselves in the salt? Sit there in silence? Take a nap? We had no idea so we tried a little bit of all 3 and after what felt like a while, we left.
We basically paid 8 bucks to sit in some salt for 30 minutes or so. Putting on our cold wet hiking clothes after the warm steam room made me want to die. Rookie mistakes. We laughed on the way out.
Saturday Night Feast
The day was so long and we just wanted to go to sleep and call it a day, but we were also starving. After getting ready at hotel, we searched for top restaurants in the area. We decided to go for some local authentic cuisine and took a taxi to the.......*drumroll*....... Bagdad Cafe in downtown Jeju. Right , so one of us (me) wasn't exactly in the mood for hansik (korean food).
If an hour and a half of silence at the restaurant doesn't scream success I don't know what does. We ordered tandoori chicken, butter garlic naan (That actually tasted garlicky and not sweet) a curry chicken dish, rice, and some drinks, and dessert. We laughed because the chicken was massive, and the waitress could barely find room on the table to place everything we ordered. Guess it's the America in us.
Seriously, we barely spoke as we devoured the entire thing. It was the best chicken I've ever had and it was the perfect way to end the evening after a long day at the mountain.
Sunday Funday
We woke up somehow having aged 50 years overnight, so we decided to take it easy Sunday. We Skyped my mom for a bit while sipping on tea and updated her on the previous day's misadventures. We took in the views and tried to ignore how sore we were. We eventually felt ready to explore so we took a taxi again but this time to the other side of the island, Seogwipo. Our goal was to find the Jeongbang Pokpo Waterfall. (정방폭포) The taxi dropped us off at a giant parking lot where we found signs for coastal trails and signs for the waterfall.
We took a stroll along the path first, we could see miles of blue ocean in the distance. As we walked we sipped on fresh orange and hallabong juice; fruits that are picked straight from the island. The hallabong juice would pair perfectly with soju, just saying.
Chasin' Waterfalls - 정방폭포
After we let some anticipation build, we made our way back to find the waterfall. Entry to the falls cost a total of 4,000 won. As we walked down steep steps we could see the falls in the near distance and got so excited.
There is not much to say other than the waterfall was stunning. The water cascades off a cliff, crashed onto the rocks below, then flows to meet the East China Sea. Jeongbangpokpo was so breathtaking we decided to spend the rest of the afternoon there. We dipped our feet into the icy waters, took photos and chatted.
Winner Winner Tandoori Chicken Dinner (again)
All of our marveling worked up an appetite, so we decided it was only natural to hit up the Bagdad Cafe for round 2!
We arrived downtown and had some time before the restaurant opened, so we walked around and pit stopped at another cafe. The sun was setting just as we got there. In the distance the sun looked like a tiny Jeju tangerine.
Shockingly, we were not the first customers to arrive for dinner. But the staff was suprised and happy to see us back so soon. We ordered a couple new things off of the menu and once more ate until we needed bigger pants.
With a flight to catch, we left downtown to pick up our bags from the hotel.
When we arrived to the airport we were guided through a special check-in line for foreigners.....we were the only foreigners so we got through security insanely fast. Winning. We sat on the ground by our terminal and played 20 questions until is was boarding time.
JD and I were sad to leave Jeju so soon, but we know we will be back. Jeju is fantastic and there are so many things to do there. I highly recommend paying a visit!
Other photos from trip!
Thank you for reading! Feel free to reach out and check out my Insta @greyes09
안녕하세요!
-G
#jejuisland #jejudo #seogwipo #jeongbangpokpo #jeongbangwaterfall #jeongbangfalls #weekendgetaway #ellavask #ellavakorea #ellava #expatinkorea #teachabroadkorea #jejutrip #hallasanmountain #mthallasan #hallasanhike #hikinginkorea #jimjilbang #hallabong #jejutangerine #downtownjeju #bagdadcafe #bagdadcafejeju #hikersinkorea #jejuhike #weekending #femaletravel #제주도