Genesis
An EPIK Orientation in Korea
It's hard to believe that I have already been in Korea for over one week! Below are my experiences during orientation.
For one week, the EPIK program (English Program in Korea) hosted roughly 215 English teachers from around the world at Daegu Haany University. Together, we represented 62 countries! I met so many people from places like the UK, South Africa, New Zealand, Australia, and Ireland to name a few. My roomie was from Scotland. It was very reassuring to see so many peers making the same decision as me to move abroad and teach. Many of us are first time teachers as well! We got to stay in the dorms of the beautiful campus which offered great views of the sunrise each morning.
Thank you jet-lag!
Throughout the week we were herded from lecture to lecture with some fun cultural experiences in-between. Some classes were focused on effective teaching methodologies and lesson planning while others focused on Korea's history (and soju). Out of the 51 million people that live in South Korea, about 2.2 million of those people are foreigners. Interestingly, the U.S is no longer in the top 3 of foreigners! Chinese make up about half the population with Vietnam and Thailand following behind. Classes ran from 9am-8:30pm everyday which was tough to handle given the jet-lag most of us were fighting.
Speaking of fighting, my favorite day was when we got to take a Taekwondo class from a black belt master and his students. We had to write down our fears on boards and then take turns breaking them. I broke mine on the 1st try! (Others weren't so lucky.)
After sweating in Taekwondo we got to experience traditional tea drinking while wearing hanbok! I definitely need to practice sitting criss-crossed on the floor for extended periods of time.
The traditional wear is used during special ceremonies and holidays. It was so fun to see everyone in bright colors!
Other fun activities included visiting the famous Andong Hanji factory, and traditional paper made from mulberry leaves grown in Korea. They are proud that Queen Elizabeth the II paid a visit in the 90's. We each got to make our own piece of paper as well using their techniques.
We also stopped at UNESCO World Heritage sight in Andong Hahoe Village to walk around and visit the mask museum.
All of the lecturing culminated in each of us presenting a lesson demo in pairs to our EPIK orientation leaders, observing teachers, and our class.
For many of us myself included, that would mean presenting a lesson for the 1st time! Thankfully it was only 15 minutes and to be honest everyone did well and it gave me the last bit of confidence I needed going into my 1st week of teaching ever. Prepping for the lesson in pairs also allowed for us to bond with each other. I had a great partner! After each demo we gave feedback to each other.
This photo is our we-survived-lesson-demos face.
We had a closing ceremony on our last day where my friends and I got to perform dances to kpop songs! My group danced to "New Face" by PSY. We had rehearsed for about 4 hours over the course of a few days so we were really proud of ourselves.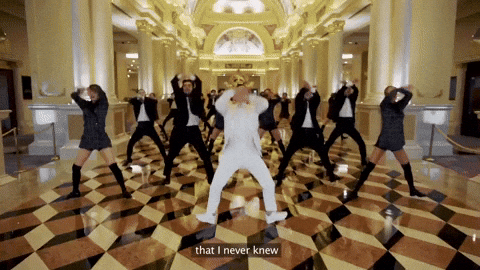 It just so happened that the directors of the programs and other officials got front row seats to this kpop action. Not awkward at all.
What better way to celebrate new friendships and new beginnings than with bottles of soju at the convenience store. We spent our evenings unwinding for only $1.60 a bottle at the CU or 7/11. At home they cost around $15! Here we got to practice our Korean with the staff and try all the new Korean snacks and drinks. I recommend the grapefruit flavored soju.
The very last day was the day we had all been waiting for...placement day! Up until that point we only knew what province we were placed in. We had no inkling of what grade, school, or exact neighborhood we'd be living in. Needless to say we were all anxious to get our preferred grade levels and location. All of our co-teachers were waiting to greet us and welcome us.
Thank you to all of the orientation leaders for making this experience a fun one. (Shout out to Gyu and Teddy!) To all my new teacher friends, best of luck this year and hope to see you at the CU! #Chan 잔 #Geonbae 건배
Check out other photos below!
#soju #andonghahoevillage #eoikteacher #epikorientation2018 #cieeteachabroad #hanjifactory #taekwondo #kpopdance #psy #newface #smoe #teachinsouthkorea #southkorea #daeguhaanyuniversity #newbeginnings #hanbok